Thank You KWQC – NBC / IOWA
August 30/31
Awesome two Days speaking to students and parents in Davenport, Iowa!
We got serious on the Paul Sands Live Show
Thank You Appleby College
July 2017
"An eye-opening, impactful, thought provoking, relevant, and important message to Faculty, students, and parents about the importance of using social media properly and respectfully at all times. Paul effectively emphasizes the need for accountability, responsibility, and ownership of our own choices, decisions, and actions when using technology such as snapchat, Instagram, texting, online gaming, etc..  Paul's message is powerful and provokes a call for action as he covers everything from parent accountability, to what can be done to help prevent the damaging effects of social media misusage.
Kathleen Kirkpatrick / Director, Middle School  /    Appleby College
July 10 & 12 / Woodbridge & Barrie Ontario
My first Moms and Daughters events were excellent!
Click on the picture for more information
Moms/Daughters Event – July 10thAwesome Night in Woodbridge!Learning, Talking, Q&A – and helping a good cause.Big…

Posted by Pauldavis on Tuesday, July 11, 2017
June 29, 2017
Thank You CityTV for the Interview today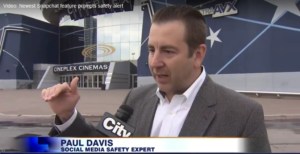 Breakfast Television Calgary
Phishing, Vishing & SMiShing.. We spoke about it all this past week on @BTCalgary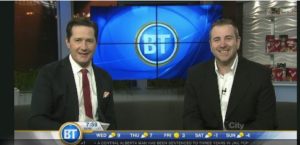 January 16 – 20, 2017 / Calgary
Jan 16 – St Vincent de Paul
Jan 17 – St Gabriel the Archangel
Jan 17 – Our Lady of Wisdom
Jan 18 – Calgary Arts School
Jan 19 – Chris Akkerman
Jan 20 – Tom Baines
** Tom Baines/Friday Night = 155 in attendance!  Date Night on Social Media!  Awesome audience for a Friday night!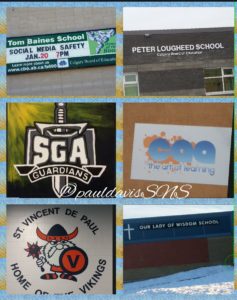 Jan 9 – St Mary Catholic School, Niagara Falls
Jan 10 – St Matthew, Hamilton
Jan 11 – Holy Child, Toronto
Jan 12 – St Martin of Tours, Stoney Creek
Jan 13 – Crossroads PS – Niagara on the Lake
An awesome Five Days to start off 2017!!
Dec 19 – Blessed Sacrament, Kitchner
Dec 20 – St Patrick, Niagara Falls
Dec 21 – St Michael the Archangel, Woodbridge
Thank You!
Dec 12 – 15, 2017 / Calgary
Dec 12 – St. Jean Brebeuf
Dec 12 – St. Maria Goretti
Dec 13 – Midsun School
Dec 14 – Dr EP Scarlett
Dec 15 – Westmount Charter
Four Days /Five Schools and Minus 12 was the highest temperature during my visit.