Recent Feedback From Parents / Principals / Students & Law Enforcement

All Feedback listed below is a re-type of actual hand-written feedback & emails  submitted further to my presentations.    Feedback from Principals are from emails sent directly to Paul
December 2017
"On-line conflict is our major time killer at our school for administration. After Paul's presentation at Chestermere Lake Middle School, our student conflicts related to electronic communication went from 1 incident per day to 1 incident per month. The students found Paul extremely engaging.  I personally loved his presentation to parents in the evening, as it was completely different than the one to the kids. And he was very direct as the gist was, "be a better parent," and he gave easy solutions for parents to help their kids.  Erhayat Ozcan, Assistant Principal,  WH Croxford High School, Airdrie, Alberta
"It was a pleasure to have you present to our students and their parents on such an important issue.  The staff members in attendance as well as myself enjoyed your presentation and took away many messages to share with others.  Thanks for the offer of ongoing support.  We will contact you with any questions that the students or we may have. Regards, Susan Nestorowich, EAO – B.A., B.Éd., M.Éd.  Direction, École élémentaire catholique Saint-Philippe
"What a fantastic (parent) turnout and we received such glowing, positive feedback about your talk.  Students and parents spoke of some important changes they wanted to get their technology more secure.  It was such a pleasure to hear you again and listen to the feedback from our families.  Sincerely, Judy Huffman, Elementary Principal, Bearspaw Christian School
November 2017
"Feedback from students, staff and parents was all very positive as they found your presentation to both informative and thought provoking.  Thank you once again for giving our students the truth about their digital footprint and their responsibilities in navigating social media as well as safe guarding their own safety.  Can you please give me some dates for a parent night for next November?  Thanks again!" Mrs. A. Lomuto-Corriero,  Principal
St. Padre Pio Catholic School, YCDSB
"Paul Davis presented current and valuable information for our students and parents giving them the tools to be safe in our ever changing technological world."  Craig Howe,  Principal, John English JMS
"Paul is ABSOLUTELY AMAZING! I had the privilege of hearing Paul about four years back at my son's elementary school, back then Social Media was not a household name, but Paul soon informed us all of the importance of knowing what our children may be doing! As the President of OAPCE Toronto, we have, and will continue to recommend Paul to all parents to invite him to their schools to provide his valuable presentation. Twice we have had Paul at our OAPCE Provincial Conference, where parents from across the province participated in his workshop, and all left thanking us for bring him to the Conference. Without a shadow of a doubt, there is no one else that can deliver current, important, valuable and informative items to discuss with all Social Media avenues than Paul Davis! Thank you Paul for helping ALL parents understand the many avenues and highways of our technological age!"
Annalisa Crudo-Perri,  OAPCE Toronto President
October 2017
"I had my Teacher Advisory group today,  about 24 kids in total for a group conversation – they wanted to talk about your presentation!   The kids were ON FIRE!!  There was so much they wanted to talk about!  Before too long they were all on their devices resetting passwords, changing their bios, eliminating telling information…  They actually all agreed that their parents needed to know more".    Tracey Sweetapple , Assistant Principal – WH Croxford High School, Airdrie Alberta
"Paul Davis has been a welcome partner to the St. Jean de Brebeuf school community.  He provides important information to keep our students safe and reminds students to use social media to create a positive digital footprint and leave a positive legacy.  Paul talks about the importance of privacy, safety and reporting inappropriate communication on social media to a trusted adult, teacher or school administrator. Paul is a highly effective speaker t and his presentations were well received by our faculty and students. "  Rocchina Antunes, Principal – St. Jean de Brebeuf High School, York Catholic District School Board
"I have had the opportunity to have Paul speak to students at four different schools since 2012 and each time he has left a very strong impression with all members of our community – students, parents and staff.  Following the presentation, students are overheard discussing the presentation with each other and parents often report back about the conversations and discussions their children have started when they return home from school.  The staff reflect on the messages with their students by continuing the conversation back in their classrooms. The evening presentation provides parents an opportunity to reflect on social media in their homes and Paul provides strategies to keep kids safe.  The feedback from parents is extremely positive as they leave equipped with new understandings and tools.  As a principal, and as a parent, I always learn something new from Paul.  Thank you for providing this important message in a clear and effective manner that evokes conversation between students, teachers, and parents."  
Kristina W
orth,
Principal –
Valley Way Public School  DSBN
 .
"Will always continue to support your message…. don't stop doing what you are doing!" 
Laura Sawicky,
Superintendent of Education: School Leadership,
York Catholic District School Board
September 2017
"Paul Davis' recent visit to our district was empowering and life changing. Whether speaking to parents, students or law enforcement officials, he was riveting, informative and blunt. His message needs to be heard. Driving home the realities of the internet, he was able to give parents and students expert information while also giving them practical insight on how to be safe. His message doesn't stop with the information alone, he is able to inspire and equip
students to help our world be a better place. After his visit, we've had many staff, parents and students talk about their plan of action to move forward in their own lives. They are empowered. I have never witnessed a speaker impact an audience to this degree before. Paul Davis is a 'must bring ' to your community!"  Beth Campbell, Educator –  Bettendorf,  Iowa
"Thank you Mr. Davis for your visit with our students last month. The feedback I received from students and parents were nothing but positive. Do not change your style and or approach to your delivery. The message was well received from all. I did have one student of mine attend your parent evening session and he felt that you were easier on his mom that evening than on the students. Ha!"  Chris Risto, Principal,St . Luke Catholic Elementary School,Nepean
July 2017
"An eye-opening, impactful, thought provoking, relevant, and important message to Faculty, students, and parents about the importance of using social media properly and respectfully at all times. Paul effectively emphasizes the need for accountability, responsibility, and ownership of our own choices, decisions, and actions when using technology such as snapchat, Instagram, texting, online gaming, etc..  Paul's message is powerful and provokes a call for action as he covers everything from parent accountability, to what can be done to help prevent the damaging effects of social media misusage.  Kathleen Kirkpatrick / Director, Middle School  / Appleby College
May 2017
"Thank you for AWESOME presentations this morning at St. Leo CES!   I have finished reading 4 class sets of my homework assignment. Exceptionally well written!   Students listened attentively to your messages and suggestions for safe internet usage practices  you provided.  Many mentioned in their summaries they were going to share what they learned with their parents, especially the "rules"."    Mrs Ugrin, Principal / St Leo CS, Toronto
" As mentioned, I've seen a number of presentations on cyber/internet safety over the years and your's was the best.  It provided valuable and useful information."  Fiona, Parent / Mississauga
"Ask your child how they plan to change the way they use technology after listening to the incredible Paul Davis today."  Mme Heather / St Luke – Ottawa
April 2017
""I am thrilled to welcome you to Thomas D'Arcy McGee Catholic School. Having seen your work with students and parents, I know firsthand, how powerful and important your message is in keeping our students safe in this constantly evolving "digital" world. Keeping our students safe requires not only teaching our children, but informing our parents of the breadth of social media and how they can keep their children safe in an ever changing technological landscape.  I look forward to working with you to keep families safe and informed."  D Langdon, Principal – D'Arcy McGee, Ottawa        (BOOKED FOR APRIL 2018!!!)
" Thanks so much for another great visit, Paul.   I'm always learning something new in your presentations, and as I mentioned yesterday, appreciate your no nonsense, straight forward type approach with your varied audiences.  Yana Ioffe, Principal, Beverley Acres PS, Richmond Hill
"As a church community we seek to equip parents to raise their kids in a way that brings honor to God. It was great to partner with Paul Davis as he equipped our parents in their responsibility to parent their kids when it comes to Social networking. Paul empowered our parents to be the parents and take ownership of the gifts that we have been given in this world – our kids. Paul's presentation was professional and allowed time for our parents to interact with questions. Our community of faith was blessed through Paul's work. We would highly recommend other churches to bring Paul in to speak to their parents about social networking safety.  Thanks for everything!"  Sam Seifert
Pastor of Family Ministries,  Southview Church – Calgary Alberta
March 2017
"It was indeed a pleasure. Wishing you all the best.  I believe our School Council has booked you again for the 2017-2018 school year!"  Guido Ronci, Principal – Alta Vista, Ottawa
"Thank you Paul for the amazing presentation today. The students are still talking about it and I know it will continue at home tonight.  Pleasure to have you at Sacred Heart! All the best"  Irene Ricci, Principal – Sacred Heart, Niagara Catholic
"Hi Paul, Thanks for the amazing presentations!  Parents and students continue to tell me how impactful your presentations were.  I had a conversation with a parent this morning at the drop-off fence that was raving about it – and she wasn't even there (her husband was)!"  Chris Caporicci, Principal – St Christopher, HCDSB
February 2017
"Thank you very much for coming to North Prep yesterday.  Both of your presentations were extremely informative and well delivered.  It is my hope that our school council will book you again"    Cindy – Principal, North Prep Junior School, Toronto
January 2017
"Social Networking Safety" was an outstanding presentation by Paul Davis both for parents and for our Grades 4-8 students. Paul provides factual information that truly leaves you shocked, especially given our youth's use of the internet to play video games, watch Youtube, using their phones and much more. This presentation is a great way for students and parents to educate themselves on the pros and cons of using social media.  –Emma Fera-Massi- Principal – St. Mary Catholic-NCDSB
"Paul Davis is extremely knowledgeable and educates all those that listen to his message during his presentations on the internet and social media safety.  I have had the opportunity to listen to him speak on a couple of occasions and the information he brings forth is eye-opening. It is important that we are all well aware of the issues that can arise as we continue to live in a society that thrives on technology." -Joe Forte – Teacher- St. Mary Catholic – NCDSB
December 2016
"Thank you again for coming out to speak to both our students and parents. Having you speak to students in the afternoon and then their parents during an evening session is so effective in sending a clear, consistent and effective message to our families in helping to keep our kids safe and positive on Social Media.
For many parents, it is a daunting and seemingly impossible task to monitor and protect their children on the Internet. You made this task both manageable and easy to do for parents who now feel empowered and confident.
Thank you for sharing your knowledge and expertise with our school community. We hope to see you back soon.
Sincerely, Rick Paolozzi, Principal,  St. Jean Brebeuf School – Calgary, Alberta
November 2016
"The presentation was informative and eye-opening.  Our students were the most attentive I've ever seen them in an assembly.  Next time we'll make sure we include a parent presentation as well."  Ann Gilmore, Principal – District School Board of Niagara
"We really appreciated the time you take to deliver this message.  Every time I attend one of your sessions, I learn more.  Your topics are so relevant to us.  Most importantly, I value the manner in which you present the material both to children and, especially, to the parents.The teachers in attendance talked about their learning in the staff room the next day with others."  Todd Acaster, Principal – Niagara District School Board
October 2016
"Thank you so much for being at Calgary French & International School yesterday.  Your sessions were very well received and there is still a buzz in the school today talking about your messages.  I have had the opportunity to hear other presenters speak on the topic of Social Networking Safety and what I really appreciated about your presentation was that you completely suspend your own ego in the interest of delivering the important messages.  Your messages are somewhat blunt but that is what we need to hear to keep our students, our children and ourselves safe in this technologically enriched social networking world."  Mme M Dorrance,  Head of School, Calgary French & International School
 "Paul Davis exceeded our expectations! His presentation style was professional, personable, enlightening and extremely entertaining. The information he provided was essential for all parents who want a safe and secure  cyberspace for their children. Paul's messages were sobering and provoked much pause for thought in this ever-changing virtual world in which we live. Paramount were his cautionary tales for educators and parents to be wary and wise when it comes to allowing children access to the worldwide web and our responsibility to keep them safe. I wholeheartedly recommend Paul as a presenter for any school community wishing to engage parents in this critical conversation that will have a long lasting impact on all involved."    – Dean Younger, Principal, St. Thomas the Apostle CES, Waterdown, Ont, HWCDSB
September 2016
"Great to have you back in our school!  Your talk last year provoked more dialogue between students and parents and more positive feedback to our school than any other event!" Cathy Ziegler, Principal, Ecole Airdrie, Middle School – Airdrie, Alberta
"You recently (June 2016) came to Ridgeway Crystal Beach High School and talked to our Junior classes (9 & 10).  The students loved your presentation and would like to ask you back sometime this school year."
Greg shaubel, Ridgeway Crystal Beach High School, DSBN
August 2016
"Had the pleasure of listening to Paul speak yesterday. If you have kids, I can't urge you strongly enough to attend one of his presentations. I considered (past tense intentional) my self reasonably Web- and tech-savvy and had my mind blown by how little I actually knew about my family's online security. Common sense rules the day, but you don't know what you don't know."  Attendee from Samsung Canada / Sons & Daughters Day / Who Kindly Posted this on their Facebook Page!
June 2016
"Paul presented to us 2 years ago and we asked him to come back again because we have heard many different internet safety presentations over the years but Paul's is by far the best.  He doesn't sugar coat it – he tells it like it is and we need to hear it like it is in order to stay safe."  Bev Tratnik, VP, Second Street PS, Toronto
April 2016
"Thank you for one of the most effective presentations ever at St Stephen yesterday! (April 30)"  Laura, Teacher at St Stephen, Woodbridge – posted to her twitter feed.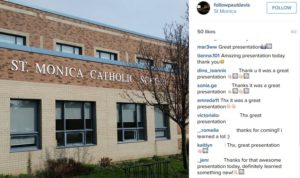 "I am working evenings and was unable to attend tonight

However I walked through the door and was bombarded with my daughter explaining everything she learned today.  She talked non stop for an hour, took my phone educated me on the do's and don'ts of social media

If I had explained all this to her she would look at me like I was from Mars.

However, today was an eye opener and from what I understand an eye opener to many people.

 So thank you for setting this up. My daughter is social media savvy and educated today hopefully making her safer in the world and in her surroundings.  Many thanks"

This parent email sums up the impact of your presentation to the students at Cairine Wilson.  They are better prepared for the world of social media with their portable electronic devices with the tips and advice that you provided them.  Tom Macartney, Principal, Cairine Wilson, Ottawa
March 2016
"This was my third time listening to it (1. L'Essor High School 2. St. Antoine Elementary School 3. St. Marguerite d'Youville—all French schools in Tecumseh, ON).  It was great to see some new information and changes from your previous presentations (e.g. SnapChat). " Mother, Front Row at St Marguerite / Windsor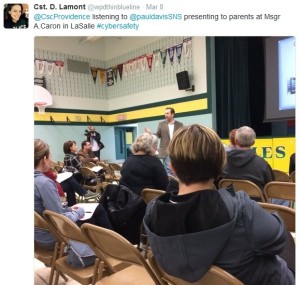 Thank You Cont Lamont – This Tweet is from her THIRD presentation of the day!  LaSalle, Ontario
February 2016
"It was sincerely a pleasure to have you come to Dunlace to speak to both the students and the parents. The school has been 'buzzing' this morning about it, and there have been many, many parents complimenting the content and presentations. It was certainly impactful"  Principal, Dunlace PS, Toronto District School Board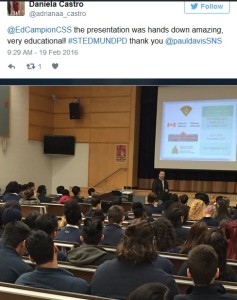 January 2016
"I heard you gave an amazing talk at Leo Baeck North.  How would we go about trying to book you for Leo Baeck South?  We would love to have you." – VP, Leo Baeck South Campus
"We had an overwhelming positive response from our students, and especially our parents, who so appreciated receiving this information.  We feel this was one of our best, and most important presentations we have had here at the school. "  Foothills Academy, Calgary – Alberta
November 2015
Comments from the Hamilton-Wentworth Catholic District School Board PIC Conference:
Wow! Fantastic Speaker! Extremely knowledgeable!
Excellent delivery by Paul Davis
Wow, amazing! Excellent Information
Amazing. Straight shooter. Awesome presentation. Very informative.
Very informative, useful and a 'must hear' for all parents and educators! Superb!!
October 2015


"The information that you pass on to the students and parents is so valuable. Thank you for coming to speak to us"  Principal, St Rita, Brampton ONT  (my second visit to her school in two years)
July 2015
"I've been to many  learning sessions before and they have all been very informative for my role as an Officer, but this session by far is the one with the most value that I have received so far.  I find myself having learned a lot of information that I can use as an officer at work and also having learned information on how to protect myself and the people that I care about in my personal life as well. "  Border Services Officer / Passenger Operations District / Canada Border Services Agency / Government of Canada
"You were articulate, informative and hilarious! You really know your stuff!"  Border Services Officer / Canada Border Services Agency / Government of Canada
April 2015
"This was my second time seeing you"  Katrina, Mom at CTK
"Best 80min that I have invested in my children's lives"  Sandra, Mom at CTK
February 2015
"Thank you for meeting with our students and parent community yesterday.  You were amazing!  Your presentations were very well received yesterday by both parents and students.  The verbal feedback I heard from parents was very positive.  You really made us think about how important it is to protect your online presence… I definitely will recommend you to my Principal colleagues."  Vice Principal, Westmount Collegiate Institute
"Your presentation was so powerful!"  Teacher, St Alfred
"Thank You for empowering me as a parent!"  Mother, St Alfred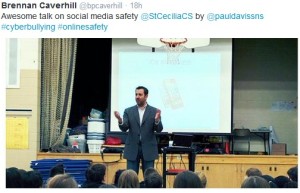 January 2015
"Thank you Paul, all presentations and evening session were a great success- kids staff and Parents are talking about it today!!!" Principal, St Luke, Waterloo (day after the presentation)
"This presentation should be seen by all students who are given access to Social Media, and it is a must be seen by all parents who give their children these powerful devices."  Principal, St Jean Brebeuf
"You had a very commanding presence and students hung on every word. It was one of the most informative presentations"  Teacher, St Joan of Arc, Calgary
"Bottom line – would I have him back – YES
Would I recommend him to another school – YES "  Principal, West Dalhousie, Calgary
December 2014
"You really connect with them" Principal, St Clare @YCDSB – commenting on my Grade 7/8 presentation.
November 2014
"Excellent!. Engaging, relevant, captivating. You were able to tailor your message to the various age groups. You must come back." Principal, Al-Sadiq School
++
"Fantastic Once Again! Lean something new everytime. Glad I brought 2 more people with me tonight"  Mother, Dalewood PS
++
"Thank You for inspiring my 15yr old to tell me to come this evening!",  Anne – Wakefield, Quebec

October 2014
"Could listen to Paul for hours and hours – he has so much valuable information – thank you."  Participant – University of Toronto, Family Care
++
"Wonderful! So much information.  My Grade 9 boy was fascinated and he came home talking about it! Thank You!", Parent – All Saints Secondary – Whitby Ontario
++
Letter of Appreciation / Reference – Ontario Provincial Police.
File on Hand for Education Institutions to Review…   An honour to recieve!
September 2014

August 2014
"I was blown away by your content and your passion for what you do!!  Your presentation is one that every parent should attend!"  L. Meyers, Provincial Constable, Security Bureau, Ontario Provincial Police
"I drove to Orillia yesterday for your presentation at the OPP HQ, it was well worth it!"  OPP Officer who drove from Renfrew Ontario to Orillia Ontario (4hrs)
June 2014
"Paul Davis advertises his presentation as Social Networking Safety (for students and parents), and that is a strong component of  his presentation.  However, it really is about so much more.  
With students, Paul covers Internet safety with specific steps to take control to protect themselves.  He highlights lifetime consequences of inappropriate use of social media and the importance of leaving a  positive on-line footprint.  Woven through his message are  themes of respect.   You could hear a pin drop as Paul tackles these issues with serious reverence.  The students instantly realize that Paul knew just about everything about every form of social media and he commanded instant respect as the students recognized he was speaking their online language with expertise.  Students left and made immediate changes to their on-line life and practices.
With parents, Paul reminded us of simple, yet sometimes difficult parenting choices that can be – no must be – made to keep our children safe.  He turns the audience from powerless victims of a fast moving digital world into parents that are empowered to work with their children to use and respect technology in a safe way.
We can't wait for him to return in November!"
Principal, Dalewood PS, Niagara District School Board
May 2014
"Paul Davis comes to our schools at a crucial time in the lives of our students.  He talks to the students in a no nonsense way… he tells them the truth about the dangers related to social networks, online and offline video gaming, and other web based applications.  He also takes the time to tell them about electronic etiquette, which most of our students unfortunately know very little about.
He then talks to the parents of these children in an even more honest way, adding parent responsibility to his presentation.  Both the students and the parents keep talking about his presentation long after he is gone.  The impact that his presentation has had on our students and their families is great."   Principal, St Jean du Brebeuf, Providence (French Catholic) School Board.
Letter of Reference : Calgary Police Cyber Crimes Division Officer.
April 2014
"Thank You again for presenting at AllenbyPS.  Students, staff and parents were very impressed (and also surprised).  Principal, Allenby PS, TDSB
March 2014
"Thank you Paul, your presentation was outstanding. I just finished sending an email to a colleague recommending you."  Principal, Chatham-Kent Secondary School, Chatham
"Awesome"  Principal, Kind Edward School – Windsor / WECDSB
"Please book us again for next year"  Principal, Valley Creek School – Calgary, CBE
"Great talk.. as an 9-1-1 operator, I deal DAILY with the effects of cyber-bullying"  Parent, Saint-Antoine, Windsor / French Catholic School Board
February 2014
"I have had the opportunity to listen to Paul's presentation four times over the past four years. His message to students, staff and parents is always based on current data in regard to social media influence. Paul is direct with his message as he encourages his audience to reflect and make changes in order to protect our most vulnerable… our children.   I highly recommend having Paul present to all school communities.
His message will make a difference in the lives of our students."  Principal, Father Henri Nouwen Catholic School, YCDSB
January 2014
"I would like to thank you for your very engaging presentation to the students and parents.  We have received many positive comments from parents whose children came home after school and asked them to attend your presentation in the evening.  Your
"Tough Love" approach struck a cord with everyone where we, as adults, too, needed to reflect on our own behaviours when using social media.  What I particularly liked about your presentation is how you challenged the parents to hold themselves
accountable in ensuring that their children are using social networks sites that are age appropriate.  I would highly recommend you to all of my colleagues." H Tinnes – Principal, WRDSB
"You definitely hit a nerve with them. After your session one of the Gr. 8 girls came to me and asked me to help her check her privacy settings".  Vice Principal, Alexander Muir PS
December 2013
"Paul, It was a real pleasure having you at L'Essor.  The parents are still talking about your presentation and how it changed their outlook on social media."  Jeanne – Directrice, ÉCOLE SECONDAIRE CATHOLIQUE L'ESSOR – Tecumseh, Ontario

November 2013
"Hi Paul, I would sincerely like to thank you for your presentation. The students, staff, and parents appreciated the information you shared with them. I would definitely welcome the opportunity to have you come back to the school in the future."  Marc – Directeur, ÉCOLE STE-URSULE
" I really enjoyed your presentation last evening, Paul and will be including some of your tips in the school newsletter. Feedback from teachers at Fenside was that your rapport with and messages for the students, were excellent!"  Principal,  Fenside P.S.  Toronto
"I'm so glad I took the time to attend your presentation. It was Excellent.  Thank You for sharing your expertise with us"  Parent, L'Essor High School – Tecumseh, Ontario
October 2013
"Paul Davis is a fantastic speaker who can really connect with students of all ages. It was so nice to see such a refreshing take on the topic of online safety. Paul's no-nonsense approach with the students works by helping them to truly understand the risks involved with their everyday use of social media. My grade 7 & 8 students were hooked for the entire 45 minute presentation! Thank you Paul for the work that you do. It has left a lasting impact on my students and will definitely make them think twice before opening any kind of account or posting any kind of media online." – TCDSB Teacher
"Paul's presentation was powerful.  He delivered a message to our students that invoked shock, and deep reflection about the cyber-connected world that they live in today.  He commanded their respect, and they all walked away having learned something important about responsible online citizenship.  In the evening, Paul also presented to our parent community.  The event was well attended, and the messages were very thought-provoking.  The parents who attended felt that Paul's presentation is so valuable, that it is one that should not be missed…we are looking to bring Paul back to JRR again in 2014."  – Vice Principal, JRR, Toronto District School Board
September 2013
"We are excited to see/hear the presentation that many schools have promoted as excellent" – Principal, Calgary Board of Education
"The student presentation was fabulous!" – Vice Principal, R.L. Graham Public School
August 2013
Even during the summer months, it's great to get emails from those who have attended my presentations:
"Hi Paul,  We were fortunate to hear you speak at Bishop Pinkham School in Calgary and you mentioned you were coming back to Calgary in September.  I would LOVE to bring some of my "mom" friends with me as I told them how AMAZING your presentation was.  I was wondering if you are still coming and how would we get more information?  Thanks so much,  Sincerely, Lydia  – Parent in Calgary Alberta
June 2013
Feedback from a another parent, Calgary Alberta
"Thank you again for such a phenomenal parent session on Social Networking Safety at Tom Baines Junior High.  It should somehow be made mandatory before any child or adult is equipped with a technological device!  I am extremely appreciative to have been enlightened by your expertise and passion to share it with interested parents and students.  It was your effective and dynamic presentation which captivated my daughter's attention and her raving interest about your talk at Branton Junior High that ensured I would not miss another opportunity to hear you speak at Tom Baines (missed the adult session offered at Branton)"
May 2013
"Bonjour Paul,
 There are people who make a career out of doing something that they don't really care for, no cause, no purpose.  You on the other hand, put that theory to rest.  The drive and the passion that you demonstrate during your presentations speak volumes of the kind of person you are and really showcase your cause and your purpose for doing what you do.  I wanted to thank you for coming out to École St-Ambroise for last week.  Some of our older students are still making mention of some of the changes that they've put into place following your talk.  Our staff and parents who were present are also bringing your name up in conversation since your visit last week.
As a school administrator and a parent of two girls, I wanted to thank you for your direct way in terms of getting your message across to your audiences.  As a principal, I could apprciate where you were coming from but as parent, I felt a sudden sense of urgency to ask those important questions to my daughter.  So we did just that this past weekend and all is well."
Principal – Directeur  École St-Ambroise
"Paul's presentation was outstanding!  I went in the role of principal as well as a parent of a 9 year old daughter.  After listening to Paul I made some significant changes to my personal relationship with electronics and the internet.  Listening to Paul also "alerted" me to the increased awareness that I now need to have as a principal in order to keep my students safe.  When Paul spoke to the students, I am certain that not one child even blinked!  They hung on his every word and many told me afterwards about personal changes that they made for themselves after learning from Paul.   Thank you Paul for your passion and for having such a significant impact on the safety of our children.  We look forward to having you back next year!"
Principal,  Port Weller Public School NDSB
"The kids wee in awe and speechless until they left and then they couldn't stop talking.  Powerful presentation.  Thanks for the honesty.  Principal, Cherrywood, NDSB
"Fantastic. We need to have you here every year!"  Parent, John Ross Robertson, TDSB
April 2013
"Your presentation to the students was very informative.  The students at St Jude told me they thought it was the best presentation they had ever seen"   Teacher, St Jude CES, Mississauga
" I had a tear in my eye when I was tucking him into bed tonight and he looked at me and said "I now know why you won't let me play "those" games. You are trying to keep me safe".   I owe all of that to you.  Keep doing what you are doing!!!!  You are making a difference in all of our children's lives and for that I thank you.",  Mother & School Volunteer, Niagara Area PS

"I teach nigh school and can totally relate / understand what you are talking about!  Great presentation – every parent should see it" (happy face).  Mother and Teacher, Ottawa PS
March, 2013
"Paul Davis brought two very thought provoking and informative presentations to our parent community and to our students, bringing a message of heightened awareness of our roles and responsibilities in keeping our families safe as the world of social media becomes more complex. Along with helpful advice, Paul Davis provides a message of empowerment in a call for greater parental involvement in the use of social media and the internet on the home front and beyond." –  Principal and Vice Principal of St. Fidelis Catholic School, TCDSB
"The presentation by Paul was engaging, well-organized & grabbed the attention of all students & staff.  Paul was able to dissect the intricacies of the Social Media piece & really questioned the students on their use & necessity of information that they share in a respectful manner.  Paul answered questions & stayed after the presentation to chat with students.  The staff  were shocked with the information that is available when children post certain things.  This is a must see for all students (Gr. 6-12), staff as well as parents."  Principal – Mother Teresa Elementary, Niagara Catholic
February 2013
"Amazing!  Best Presentation on Safety I've seen at our school.  Loved the Student / Speaker interaction" – Teacher, YCDSB
"The presentation for both the kids and parents were Excellent"  Social Worker, NDSB
"I had no idea how much I would get out of this presentation! Very Good!"  Parent, Vineland School NDSB
"Excellent content. Relevant. Well Delivered"  Parent, Mother Teresa CES, TCDSB
+++++++++++++++++++++
January 2013
" The staff and parents who heard you speak were so impressed by your knowledge, presentation style and information. Your message is so critically important and I want to thank you for sharing with our parents, staff and students."     Principal, Bearspaw Christian School
"I think it was one of the best presentations we have ever had.  It was very thought provoking and should have put up a lot of flags for the students."     Paulette, Teacher – CES Calgary
"Very informative and thought provoking.  Paul is passionate about Internet Safety and he challenges parents to act like parents and supervise their children when using technology."   Mike B.,  Principal – Christ The King CES, Calgary
++++++++++++++++++++++++++++
Your presentation was informative for parents, students and teachers.  We need to embrace technology but teach our children to use it safely.  The internet provides our children with no room for error.  We cannot simply, not allow them to use it, but teach them to be smart about it.  My children are younger but the future is inevitable, better to set the rules now and have them in place.  I learned so much about iphone safety and wireless safety.  Thanks so much.
I loved that you were straight up, called parents on their choices and held people accountable for their responsibilities at home while delivering the facts.  Brilliant!  Thank you!  A must see for parents of any aged children… Thanks again
Alison  (Teacher / Parent)
November 2012
Parenting today is a difficult job as the culture and technology influencing our children needs to be understood and filtered.  Paul walked that path with our parents and through open discussion enabled our parents to gain insight and skills in being the parent our children need them to be.  Thank you from the Our Lady of the Annunciation Catholic School Community!
Mr Drago
Principal, Our Lady of the Annunciation Elementary School
September 2012
"Many parents were surprised to hear how their children have been empowered with tools that can reach beyond the scope of their understanding and that these technological devices may in fact affect their future career aspirations."  – Principal, Notre Dame CES
"Awesome Presentation" – Parent / John Bosco
"Very informative" – Parent / John Bosco
"Excellent presentation, Paul – Very informative and clearly articulated" – Parent / John Bosco
 June 2012
  "Thank You for not beating around the bush and speaking to the seriousness of what they take part in".  Teacher, Our Lady of Good Voyage CES
  Paul Davis presented indispensable information in an easily accessible, honest and informal format that was practical and relevant for our community.  His message about Internet safety, with an emphasis on family values, is an important one that all parents should regard.  –  Our Lady of Lourdes CES
Thank YOU, Paul. The staff are still talking about your presentation. You have a great deal to share with school communities.  
Principal

 –  DR F.J. McDonald CES
   (From Original Presentation Date: October 2011, and feedback six months later!!)
April 2012
"Excellent presentations today!" Principal,Hagersville Secondary
"Fantastic Presentation, Very Informative. Thank You for making the trip down, much appreciated"   Officer Birch, Windsor Police.
"Thank you Paul for coming to present at our school last Tuesday.  You had a huge impact on our students"  Vice-Principal, Avalon P.S.
"An excellent presentation! As parents and educators, this was very worthwhile"  Parent/Teacher, Hagersville 
March 2012
"You made us aware of our responsibility to participate on-line both safely and respectfully, and you also described the potential consequences of careless on-line behaviour. You emphasized the parents' important role in monitoring their children's' on-line activities. You suggested many ways to help families incorporate technology into their homes in a way that protects their children's' safety and privacy." –  Principal – Dufferin Peel
"An eye opener. Excellent Information!" – Parent, St Nicolas
"Excellent presentation – information provided was great! Excellent speaker – I believe this should be a yearly presentation to parents and children" – Parent, John the Baptist
"Very informative.. as a teacher and as a parent" – Techer/Parent, Anderson PS
"Thank you for the very informative evening, and for sharing your knowledge with the children today" Parent, Jack Miner PS 
"Thank you so much for coming to speak yesterday.   I personally learned so much from hearing you at all presentations.   When you speak, I hear the passion you have for this topic which is so awesome.  There are very few fathers these days that are committed the way you are in  caring about what our children are doing with their time.  Your children will thank you for that some day. – Parent Council Chair, GESB District
February 2012
"We had a lot of really positive feedback from the parents who were at the evening presentation. They found the material you presented very informative and practical, and for many was a real eye-opener: they had no idea about the risks and dangers of their children's social media participation.  We look forward to coordinating another presentation and reaching more parents next year.  Thanks again for for your good work."
Principal, St Jerome Catholic Elementary School
"Paul Davis presented to our grade 4-6 students, our 7-8's and then our parents.  In all three groups you could have heard a pin drop because they were so focused and interested in what he had to say.  They all appreciated his expertise, his candour and his "straight-shooter" approach.   Facebook related issues and cyber-bullying consume a great deal of time for us as administrators.  Hopefully this presentation will go a long way to making things clearer for kids and help them to understand their own accountability and how they can protect themselves in a world they only think they understand."
Vice Principal, Featherston Drive Public School
As Vice Principal, I highly recommend this presentation to students as well as parents. It's informative, entirely relevant in this age of electronic gadgets and online connectivity, and surprising at times, in terms of Internet privacy (or lack thereof). Both students came away much more informed and much more prepared to make sound and safe decisions with regard to online networking.
Vice Principal, Rideau Valley M.S.
I thought the information presented was incredibly important and done so in a no-nonsense format. It was enough to make me go home and change how I'm using facebook (still a sceptical rookie, but use it!), and talk to both my teenage kids about things…. I think my class was pretty engaged in the presentation, as we had a fairly good discussion afterwards. Totally relevant stuff – I still have lots to learn! I would definitely go to hear Mr. Davis again.
Teacher, Rideau Valley M.S.
January 2012

"Thanks so much for all your info.  You were articulate and informative.  My son talked about your presentation at dinner and made me aware of how beneficial it was for the students" – Parent – Holy Family 
"Excellent presentation" – Parent, St Gregory The Great
"Appreciated your passion for the topic, very imformative" – Parent, St Gregory The Great
"Very informative. You are a great speaker and a pleasure to learn from" – Parent, St Gregory The Great 
"Very Good! Learned so much!"  Parent – Meadows Private School
"Awesome! Learned at least 10 things I did not know" Parent – Meadows Private School
"Absolutely eye-opening! So Informative! Excellent Speaker" Parent – Meadows Private School
"Great Presentation – completely engaging.  I appreciate your honesty and straight forward method – very effective"  Parent, St Pius X CES
"Loved it.  Look forward to future presentations"  Parent, St Pius X
December (Week of December 19th), 2011

"Paul, Thank You for taking the time to share your enlightening presentation to the youth at Monsignor Fraser College.  We look forward to future endeavours.  "
Delvio Parent Child Clinic
"Absolutely fabulous- the teachers AND students were totally engrossed in Paul's 'to the point' presentations. As he revealed more and more about how Facebook and other social networking sites work, his audience quickly realized how little they really know about this seemingly innocuous medium.  Our students walked away well informed  and ready to protect themselves in this ever expanding  era of cyber communication …"
G. Woloshyn, VP – IONA Catholic Secondary School,
November (Week of November 28th)
"There is lots of buzz in the staff-room today from the teachers who heard your presentation in the gym yesterday and in the library last night. You've made a big impact."    C. Allen, Principal – St Nicholas Catholic Elementary School
Paul Davis' presentation to our students, staff and parents was thought provoking and increased our collective awareness of the need for adult guidance in keeping our children safe as they learn to use technology responsibly and ethically. Students as well as parents have already made changes!   D'Arcine Thompson, Principal,  Convent Glen Catholic School
Excellent Presentation! Very educational and a real eye-opener.  My two boys also learned a lot from the school presentations earlier today.     Parent, St Paul CHS
Amazing Presentation! Please come back!      Parent, St Paul CHS
Excellent Presentation,  I like your list or resources      Parent, St Paul CHS
 November (Week of November 21), 2011

 As I said that night I know it had an impact on staff, students and parents after….  It was one of the presentations that they kept talking about even days after.  Your delivery was very strong and effective with our audience.  The teachers and parents were a part of the presentation which kept them involved.  I think your perspective as a Dad was also important for the parents to hear.  Overall, one of the best presentations on Online Safety that I have experienced.
C. Mondelli, Principal – Holy Rosary Catholic School
Excellent Presentation! Very informative. "In Your Face" approach – great!  Definitely made me think twice.  Parent, St Emily CES
Presentation was very informative – speaker Paul Davis really informed and educated.  Definitely the way to go, these workshops give you information that I hadn't any idea about.  Parent, St Emily CES
Great Presentation.  Lot of information to digest.  Would be great if you could come back because there is so much info to cover.  Parent, St Brigid
This presentation was FANTASTIC!  We should have him every year!   Parent, St Brigid
++++++++++++++++++++++++++++++++++++++++++++++++++++++++++++++++++++++++++++
PAUL DAVIS SOCIAL NETWORKING SAFETY